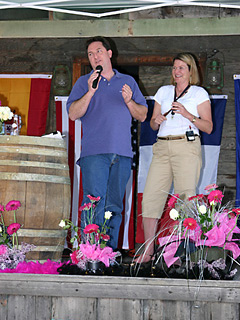 I acquired a while back one of the rare
Loring 2005 Gary's Vineyard Santa Lucia Highlands
Syrah. 1 barrel was made and hence there are only 20 cases made and therefore the high price.. supply and demand... so annoying when it comes to paying for the wine you want.
It was all purchased by Lorraine Alban at the Hospice Du Rhone auction. Apparently Brian Loring swears he will never make another syrah. Yes and Cher's farewell tour was her last. But this wine is rare and if you are interested in tasting a new world style pinot maker's interpretation of syrah you may want to acquire a bottle.
The cherry fruit and anise notes are overall very nice for a syrah. The finish is a bit abbreviated but the velvety mouthfeel makes up for it. The astringency and earthy notes should lend this wine to pairing well with a nice steak and mushrooms.
If you like Brian Loring's Pinot's, you should look into this wine.